How to setup favorite stations in my Philips radio clock?
To register your radio
Make sure that the radio is in Internet radio mode, and has been connected to your Wi-Fi network 2. On the radio, go to Station list > Help > Get access code 3. Wait for a while, a 7-digit code would be displayed 4. Write down this code (The code may contain numbers and/or alphabets) 5. Do not switch off the radio. Do not disconnect the radio from the Internet. 6. On a computer, go to www.wifiradio-frontier.com 7. Click on ?Not a member? 8. Register a new account. You will need to enter the access code that you have recorded from the radio. Note: The displayed access code is only valid for a few minutes. If you fail to register your radio within the time period, you need to repeat the above steps to get a new access code and try again.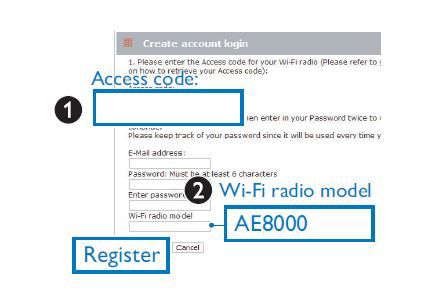 To add radio stations to ?My Favourite?
Login in to the Frontier Silicon Internet Radio portal website 2. Browse or search for stations, and then add them to your favorite station list * You would also need to give a name to your favorrite stations group 3. Log out from your account 4. Switch on your radio. Make sure it is connected to the Internet. 5. Go to Internet radio > Station list > My Favourites Now your favorite Internet radio stations are preset in your radio.